Estate
"Trois Tortues"
(Three Turtles)
Peloponnese Greece


French version
The Hermitage "Trois Tortues"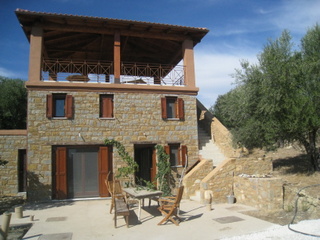 In the midst of our organic olive grove, the Hermitage Three Turtles is located in the hinterland of the seaside village of Methoni, Peloponnese, Greece. The site overlooks the wide open sea valley that leads to the Venetian fortress of the 13th century.
100% independent, made with natural and local materials, it draws its energy resources from the sun and water clouds.
Designed for 2-6 people with a living room, a loft bedroom, a room on the ground garden, kitchen, bathroom with shower and composting dry toilets.

Spring views, full of greenery, in contrast with the dry summer

| | | |
| --- | --- | --- |
| south side | North side | North side |

Three Turtles to stay is to regenerate into positive energy in nature, enjoy moments of total peace in freedom. It is suitable both for family holidays or for those whose profession requires peace, quiet and relaxation.
It is also relearn manage the resources provided by nature, take only what is necessary to existence, to enhance its release in respect of the microenvironment. The cottage is equipped with outhouses which allows us a huge rainwater economy. The terrace on the first floor, can enjoy the scenery on 360 °

Means of access
320km from Athens, 60km from Kalamata (international airport), 12km from the town of Pylos and the village of Finikounda.
Methoni,
in the Messinia region of the South East Peloponnese, was found its existence in the Odyssey as « Modon » . Lively throughout the whole year with its local grocery stores , butchers, supermarkets , pharmacies , cafes and traditional restaurants.
Monuments to visit are the 13th century Venetian fortress/Castle and remarkable Bourtzi tower both present in all majortourist guides.
Beaches:
The village itself has its own beach located nearby. 5km beach landscape with golden sand. A little further ranges Finikounda Beach , Koroni Beach , Gialova Romanou and the amazing circular Voidokilia beach
Day trips to the surrounding areas:
Pylos is known for its Venetian port and the famous Navarino Bay where the lastgreat naval battle in history took place, which can also be visited by boat.
The Gialova Lagoon is a bird sanctuary and is dominated by the Palaiokastro cave/castle situated at the foot of the cliff giving you a stunning view over the bay.
There is also the archaeological site of the Mycenaean palace of King Nestor , dating from the sixteenth century BC and close to Chora Museum.
The beautiful village of Koroni , a fort for houses and a stunning monastery.
Sweetwaterfalls in the site of Polylimnio with beautiful green lakes and waterfalls , where you can swim in fresh water.
The archaeological site of Messinia, one of the largest in the Peloponnese with Greek and Roman exhibits .
Contact us :
Marc et Evi Parmantier Siougari, in Athènes 00-30/210-614-90-41 Email : marc.parmantier@gmail.com